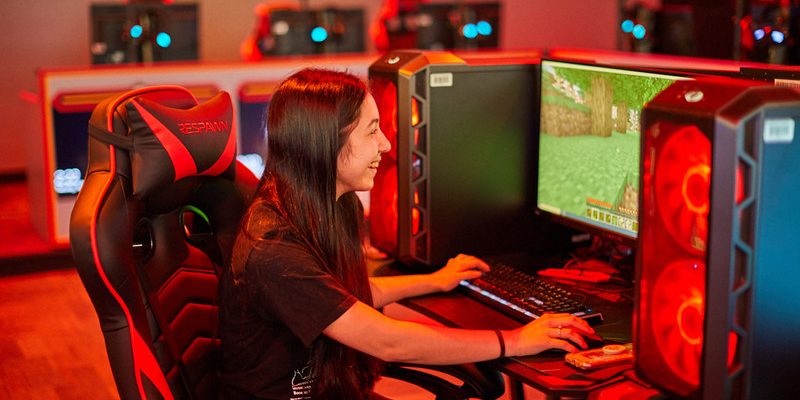 Esports (or electronic sports) and leadership may seem an unlikely pairing. The view that esports promote risky and deviant behaviors often eclipses the positive developmental value they have on learners. More and more current studies recognize esports benefits related to molding better leaders. Esports is fast becoming a sanctioned extracurricular in schools as a path to building valuable leadership skills that transfer to the workplace.
Electronic games are popular among students, and the high viewership of esports tournaments indicates that it's a sector that's not slowing down anytime soon. Teachers, parents, and esports athletes themselves note that esports build critical soft skills that prepare learners for leadership roles. In the flowing post, we explore the benefits of esports in schools by highlighting the leadership skills that learners can acquire from the games.
Why the Rise of Esports in Education is a Good Thing
While parents and teachers may not relish the idea of a student spending a lot of time in front of a video game, the many benefits of esports may cause you to keep an open mind. What may start as a teenage request to play Fortnite, Minecraft, or Roblox could develop the child into a future leader. Esports in school expand a child's tech know-how and organically develops critical soft skills such as teamwork, time management, grit, and problem-solving.
While not all students will end up becoming pro gamers, many career opportunities can develop from esports, such as sound engineering, game design, voice acting, and marketing. Moreover, parents with children who play esports such as FIFA, formula one, and rocket league see that they build a child's confidence, critical thinking skills, and leadership abilities.
11 Leadership Skills That Students Can Develop from Playing Esports
Problem-solving skills
Esports develop students' problem-solving skills under pressure and while working collaboratively with others. This is because gamers spend most of their time failing and creating solutions to overcome obstacles. Constant failure can sharpen and apply different leadership styles because they challenge students to try diverse techniques to complete the esports task. Effective problem-solving is a valuable asset when faced with real-world job responsibilities and duties.
Teamwork
Success in most esports heavily relies on collaborative efforts from players. It entails delegating tasks, which is what most leaders do every day. The growth of team-building skills in esports means that the students understand how to influence teams as leaders in the workplace. Gaming helps learners to understand the value of collaborating with junior and senior employees.
Self-confidence
Self-confidence is an important leadership skill that enables people to take on challenges and broaden their horizons. Excelling in competitive esports in a learning environment can do wonders for a student's self-confidence, especially those who don't show particular interest in the traditional curriculum sports and activities. Learners that succeed in esports make good leaders because they're more willing to take risks, believe in their abilities to excel during challenges, and are open to trying new things.
Communication
Leaders are excellent communicators, and playing esports is a great way to develop excellent communication skills. Esports players need to communicate with teammates effectively to operate as a unit. Collective intelligence is one of the predictors of success in esports. Thus, it teaches students how to present winning ideas to others as well as develop listening abilities.
Value of practice and preparation
When competing in esports, you always have to come ready through practice and preparation. This is one of the finest leadership qualities you develop through esports. However, there are times when playing esports will leave you little time to handle class assignments. Instead of submitting substandard homework papers last minute and compromising your grade, seek essay help from CustomWritings.com. As a professional writing service, they help struggling students keep up with their academic assignments. It is one of the top academic essay writing services in the USA. Don't crumble under the yoke of assignments, ask an expert to write your paper from scratch.
Strategic planning skills
Playing high-speed strategic games gets the brain to act quickly, make swift decisions, think critically, strategize, and act on the go. Leadership requires you to think on your feet and adapt to changing circumstances and overlapping ideas. Thus, playing certain strategic esports prepares learners to be good leaders by improving their cognitive flexibility, ability to multitask, and evaluate solutions.
Competitiveness
Over a hundred college and university teams participate in competitive esports annually, and the number keeps increasing. Incorporating esports in education teaches learners how to compete effectively. By participating in esports leagues, students build an array of soft skills that mold them into great leaders, including the importance of time management and the value of upholding a strong ethic to manage losses in a healthy way and celebrate success.
Pattern recognition
Learning pattern recognition is essential for effective leadership. A lot of esports require players to create, identify, and predict patterns to succeed. If you don't recognize and respond to patterns quickly, you risk losing or not proceeding with the game. Pattern recognition is essential in helping students improve life skills that can help learners succeed as leaders in a variety of career paths. For example, leadership in professions such as medicine, sales, academics, and law relies on a person's ability to recognize patterns.
Overcoming adversity
Life isn't always fair. You'll need to overcome many setbacks and adversities. Learners learn how to deal with adversity and failures through situations they face in esports games. The games mold the mentality they need to overcome and learn from hardship when striving for their goals. This leadership skill will serve them well later in their career and personal life.
Setting and striving for goals
Good leaders set short-term and long-term goals and focus their efforts on accomplishing these goals. Organized esports in school challenges payers to set personal and team goals and strive to reach them. Irrespective of the level of skill or accomplishment, each player can set goals that mirror the accomplishment they desire and the corresponding plan of action to reach the goals. Transferring the goal-achieving lessons from esports to professional and personal life can mold learners into excellent future leaders.
Self-discipline
On an individual level, esports can develop learners' self-discipline and understanding. Esports develop endurance and the value of investing in self-development. Esports enable students to recognize the challenges at hand and make necessary improvements that will help them succeed. The same is true for good leaders. Good leaders aren't perfect, they just work hard on improving and developing leadership skills to be successful.
Schools Can Nurture Leadership in Students through Electronic Gameplay!
Schools can incorporate esports as an avenue for developing critical leadership skills for students. From cultivating soft skills and developing their teamwork, problem-solving, communication, and self-discipline, esports prepare learners to excel in future job markets. These transferable skills from esports establish a structured pipeline for students to grow, learn, and develop as leaders.