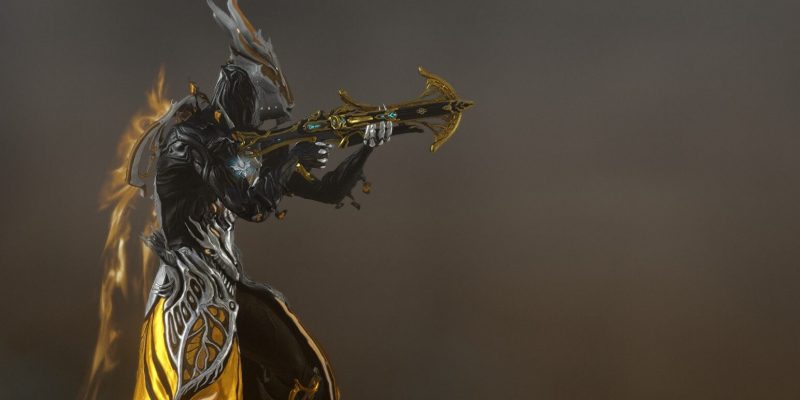 Tigris is the first burst mode, twin-barrel, slash damage shotgun of Warframe having a unique fire mechanism. It fires one ammo at the fire button press and the second while you release the fire button.
This provides better control while dealing with agile enemies where you continuously need to change the aim. You can hold the fire button till you aim at the enemy again and then release it for the second shot.
Tigris shotgun deals massive damage to the enemy, making it a reliable choice even against the stronger enemies. Its unique fire mode also allows you to reload the weapon in the middle of the burst while hilding the fire button.
This way, you can quickly recover the ammo and be ready to take the next shot. Tigris altogether, being a different kind of weapon, can be trickier to use as well.
Tigris does come with its primed variant known as Tigris Prime. It deals even massive damage to the enemies and has the second-highest base damage among all primary shotguns. This article will discuss some of the best Tigris Prime builds to make it more powerful, overcome its weaknesses and conquer enemies.
Advantages of Tigris Prime:
The massive base damage of 1560
Very high-Status chance.
Fast reload speed of 2 sec
8 Pellets Multishot
Damage is dealt with the health of enemies
Accuracy is high, and bullet spread is low
Disadvantages of Tigris Prime:
Less useful against shields and armors
Critical Chance is meager
Magazine comprises of just two bullets
Very high linear falloff of ~ 50% between 10m to 20m 
Challenging to use against agile enemies
How To Acquire Acceltra?
The primary blueprint and the components of Tigris Prime can be obtained from different void relics.
The blueprint can be obtained from Lith T1, Lith T3, Neo T1, and Axi T1. 
The barrel can be obtained from Lith K1, Lith K3, Lith V4, Neo B4, Neo H1, and Axi S6. 
The receiver can be obtained from Lith S9, Meso K1, Meso N5, Meso S6, Meso T2, Neo S6, Neo V3, and Axi V5.
The Stock can be obtained from Lith B2, Meso S1, Neo B2, Neo N11, and Neo V4.
You will need 15000 credits, 1 Barrel, 1 Receiver, 1 Stock, and 10 Orokin cells to manufacture Tigris Prime build. It takes 12 hours for that, which can be rushed by spending 50 Platinum.
Top Tigris Prime Builds in Warframe:
Tigris Prime has an advantage over Tigris in terms of having multiple Polarities. It possesses both Madurai and Naramon Polarity, which provides greater customization flexibility. Popular mods used with Tigris Prime are –
Hell's Chamber– It increases the multishot ranging from +20% to +120%.
Primed Point Blank– It significantly increases the damage by +15% to +165%.
Vigilante Armaments– You can use this to compensate for the low critical chance of Tigris prime and add some multishot.
Sweeping Serration– It increases the Slash damage by +20% to +120%. Tigris Prime being a slash damage giver, this mod can be quite useful.
Seeking Force or Seeking– It compensates for the low magazine and helps deal with multiple enemies together.
Chilling Reload– It boosts the reloading speed for frequent reloads.
Ammo Stock with Burdened Magazine– A maxed Ammo Stock with a Level 1 Burdened Magazine can increase the magazine size to 4. This works for both Tigris and Tigris Prime.
Tigris Prime – One Shot Wonder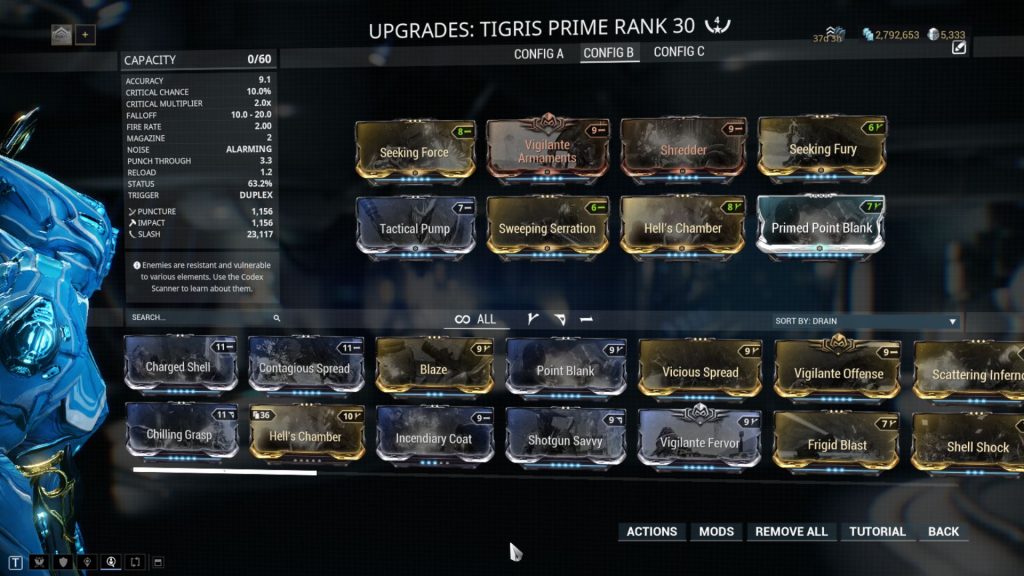 The One Shot Wonder has good accuracy, high critical chance, and an excellent critical multiplier. The mod that can be fit perfectly in this build will be the Prime Charged Shell that will provide you adequate electricity, Primed Point Blank to provide you good duration, and Hell's Chamber to provide you good Multishot. Once you get these three abilities on your side, it will be easier for you to get through the mission.
The Shell Shock and Sweeping Serration are also suitable for high-status chance and good slash damage. Another mod that can be relatively useful for you will be the Vicious Spread to increase the damage done to the enemies.
These mods will be helping you in quick running and getting the enemies killed in a fraction of seconds. If you run low on energy, then you can also switch to high energy mods also, though it is not necessary for this build.
Tigris Prime – Index Destroyer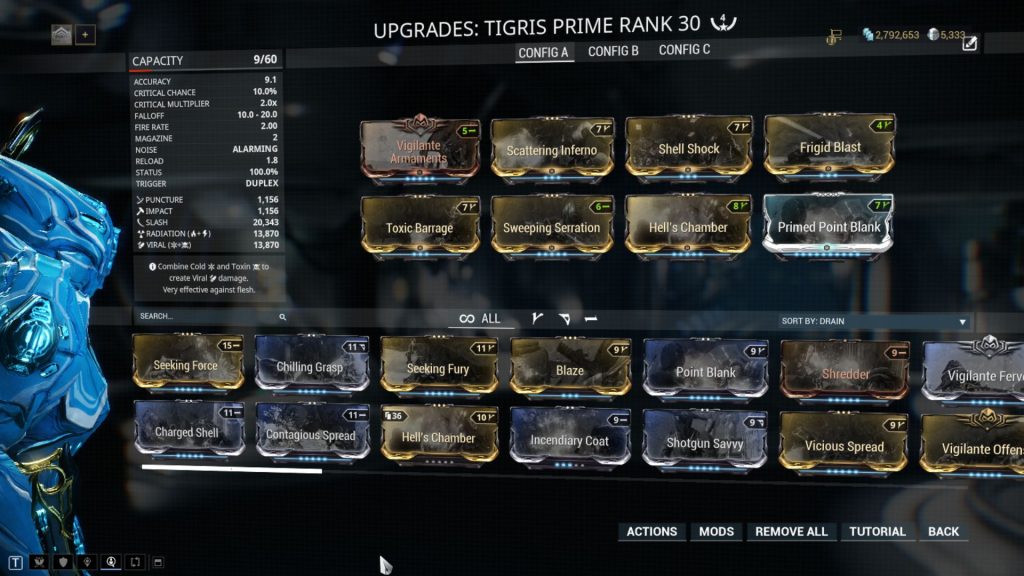 The next build that we will discuss is the Index Destroyer. The accuracy of this build is pretty good, and the projectile is pretty the same as that of the previous build. The significant mods that can be used here are Vigilante Armaments for increasing the Multishot and Vicious Spread for spreading the damage. Along with this, as you will need high energy and efficiency, you can go with Incendiary Coat and Shell Compression.
These mods will be helpful for you as they are pretty good with efficiency and duration, and that is why it is easier for you to pick this weapon and use the augmented mods against the enemies. Status changes should be significant, and only then will you be able to reach your goal; otherwise, with this weapon, it is somehow challenging to get through the mission if you do not use the augmented mods correctly.
Conclusion:
In this article, we saw almost every necessary information about Tigris Prime Shotgun. We discussed different mods that can be used while creating its builds as well as we took a glance at some popular Tigris Prime builds.
Tigris Prime is an excellent weapon in the Warframe and suits close to mid-range combats well, all thanks to its devastating damage.