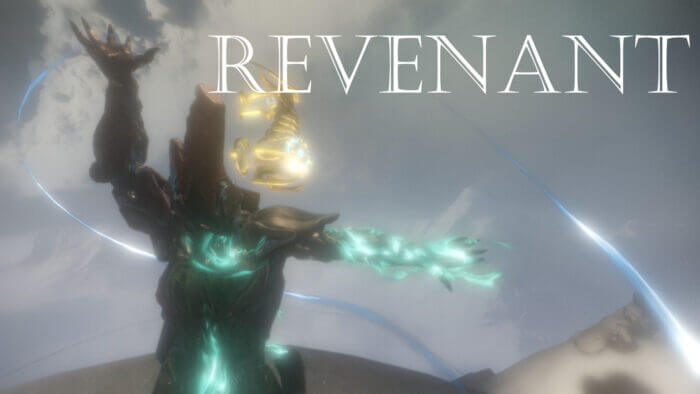 Released in Devstream 112 in 2018, Revenant's codename was Vlad during the development period. It is a tank having a base shield at 225, only next to Hildryn and third-highest in terms of overshields. Legends have it; he has arisen from the broken remains of the Eidolon.
Using his abilities that are quite fun to watch, he can deceive his enemies into attacking their allies. He can also summon lethal eidolon energy beams to devastate the enemies.
The iconic feature of Revenant Warframe is the shields but possess decent armor, health, and energy. He has self-healing ability, good mobility, and decent damage output. However, Revenant requires a lot of energy and a lot of forma to be good. Let us look in detail at the abilities of Regenant and popular builds that are too fun to play with.
How to acquire Revenant Warframe?
Complete Mask of the Revenant quest to acquire the main blueprint and from the bounties in the Plains of Eidolon acquire the blueprints of the components.
Abilities of Revenant Warframe:
Enthrall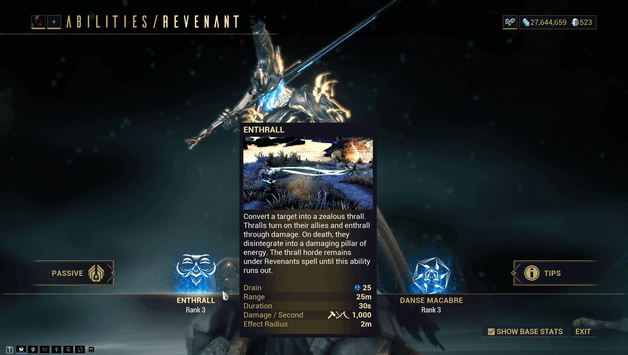 Using this ability, Revenant converts an enemy into a Thrall. They remain in the thrall till the ability runs out. Later, they disintegrate and form a damaging pillar of energy.
Mesmer Skin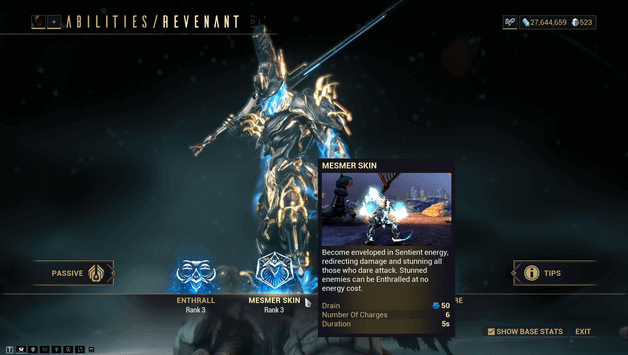 This ability envelops the Revenant in a sentinent energy and redirects the damage. It also stuns the enemies nearby and they can be thralled without any energy cost.
Reave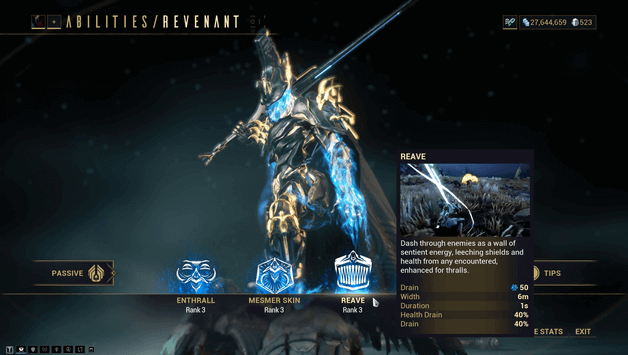 Revenant transforms himself into a wall of sentinent energy. On contact with an enemy, he extracts the shields and health. Later it can be used for thralls.
Danse Macabre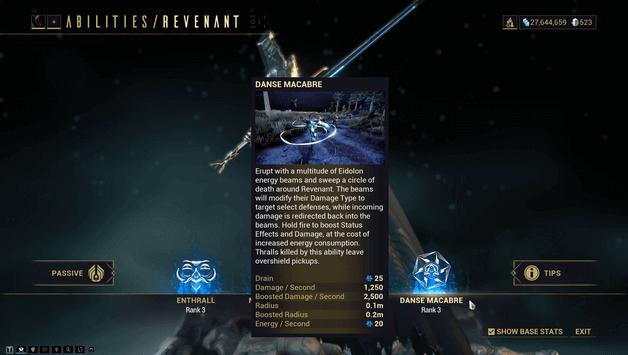 It looks like a volcano from which eidolon energy beams erupt. It swipes out the area and enemies take on heavy damage. The beam can selectively pick the targets and can absorb the incoming damage.
Revenant Builds:
Revenant being a balanced Warframe becomes easily customizable using mods. Let us take a look at different mods for creating Revenant builds and then we will look at top builds as well.
You can use Intensify or the Augur Secrets if you are creating a Revenant build that is more dependent on abilities. Intensify will increase the ability strength whereas, Augur Secrets will keep adding to the shields as well.
Transient Fortitude can also be used for this purpose, but it reduces the ability duration. If you do not care for ability duration then Fleeting Expertise can also be a god choice.
Using Primed Continuity or Continuity will compensate the loss of duration done by Transient Fortitude or Fleeting Exercise, but it will be more effective if used along with Augur Secrets or Intensify.
Revenant Build – Umbral Revnant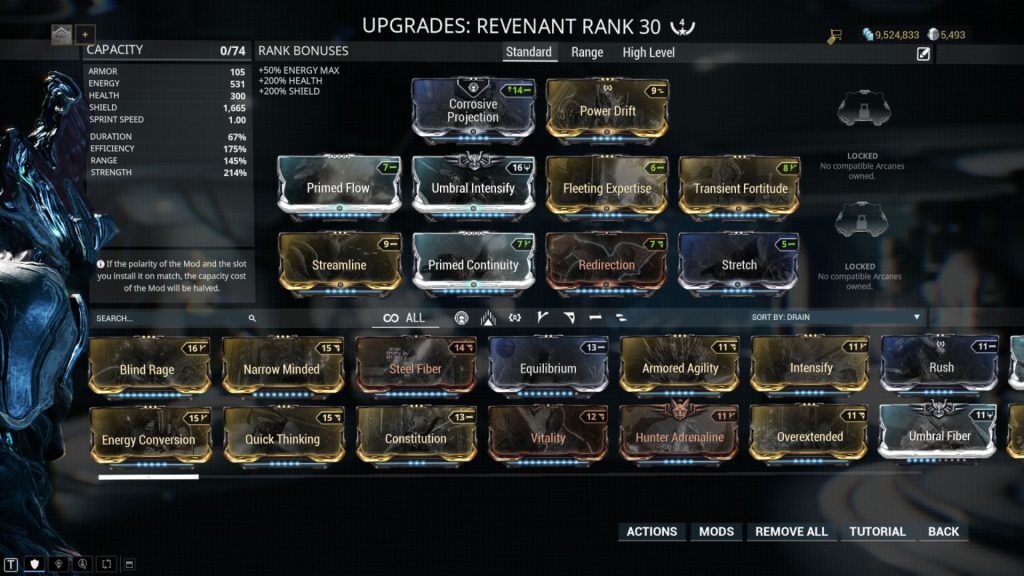 The Umbral Revenant build is the most commonly used Revenant build. This build is high on shield and armor but relatively low on duration and efficiency. So, the most important mods that can be used here are the Vitality and Intensify mods that will be providing reasonable control over the efficiency and duration. The Streamline and Natural Talent mods are also equally important for improving the casting speed and efficiency.
There is no need for a survivability mod because each mod almost gives you boosted speed, strength, and efficiency. However, still, if you think that you need the survivability mod, then you can switch to the Umbral Vitality mod.
Revenant Build – Damage Immunity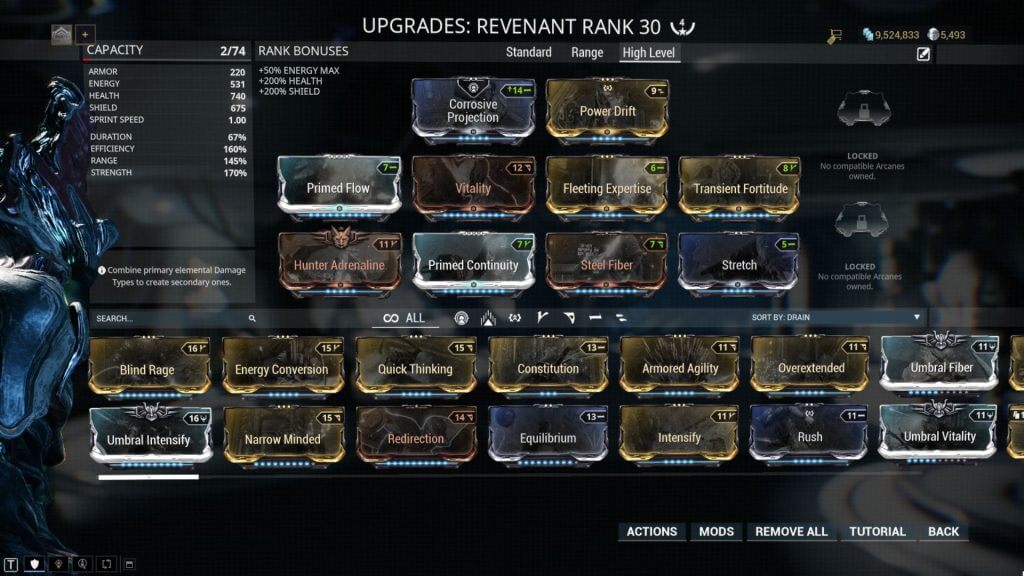 The next build that we will talk about is the Revenant Damage Immunity build. Though this build has a general number in shield and efficiency, it does have many excellent mods that can be used to increase those numbers.
The Fleeting expertise is one of the most essential mods in this build as it will be providing your ability efficiently. Still, along with that, you will have to use the Primed continuity mod that will be providing you the increased duration.
The other essential mods that can be used are the Rolling Guard and Augur Message. These mods have the capability to remove the status effect, and, they can boost your ability duration in less than three seconds.
Since the critical point in this build is the ability range and so you will have to switch to those mods that will provide you good ability range radar. Transient Fortitude can help you with this, and so you can survive throughout the build.
Conclusion
With this guide, you will gather information about the Revenant builds and the abilities that can be used with the different mods to kill the enemies. Each augmented used within some polarity that should be maintained by the player.
So, before selecting any mod, you must know about the abilities of the Warframe that you can use with the mod, and you should be aware of the different projections.