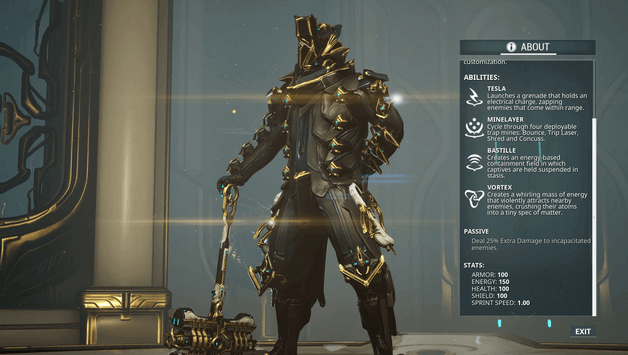 Vauban has been described as a highly tactical Warframe that uses his powers and creates deadly traps for his enemies. The traps can zap, imprison, and crush them dimensionally.
Once in the top Warframes list, Vauban gradually lost its significance on the arrival of newer Warframes. But back in his glory days, he was instrumental in raids and excavation missions, among others.
Even though the Vauban Warframe received many updates, while the most recent being update 26, it could not be revived back to its glory completely. Probably the people had already shifted to other newer Warframes with newer and exciting capabilities than the obsolete Vauban. However, using the right Vauban Prime Build makes him fun to play with Warframe even nowadays.
Vauban vs Vauban Prime
Released in May 2016, Vauban Prime is the Primed variant of Vauban Warframe. It has got a higher shield, better armor, and an additional polarity. The Vauban chassis can be acquired by purchasing the blueprints from the market.
In contrast, the other components can be bought from the Nightwave creed offerings. On the other hand, Vauban Prime's chassis and the other components are acquired from the different Void Relics.
Abilities of Vauban Prime
Vauban and its prime variant have four different abilities: Tesla Nervous, Minelayer, Photon Strike, and Bastille. To create a perfect build for the gameplay that suits you, proper knowledge of the different abilities is necessary.
Tesla Nervous
Using this ability, the Vauban deploys a roller drone. The drone gets attached to the enemy delivering bursts of electricity arcing to it and the nearby areas.
Minelayer
Equipped with four different types of mines: Teather Coil, Flechette Orb, Vector Pad, and Overdriver; Vauban can use them to deal severe damage to the enemies.
Photon Strike
He drops a targeting beacon that summons devastating laser artillery strikes on the enemies.
Bastille
This ability acts like poisoning the enemies. Vauban erects a containment field by using this ability and captures the enemy inside it by suspending them in stasis. It also strips off the armors—several Bastilles collapse as one single damaging dealing Vortex.
Top 3 Vauban Prime Builds
Choosing a perfect mod for creating Vauban Builds depends on a case-to-case basis. But the thumb rule is to pick up as much energy as you can, and using Energy Siphon is the best option for that. While dealing with high armor enemies, you can choose Corrosive Projection to reduce the enemies' armor and increase your side's damage output. Now, let us look at our top three Vauban Prime Builds.
Vauban Prime Damage Build
This build is the combination of two abilities of Vauban Prime: Vortex and Photon Strike. It is an excellent choice if you want to deal a ton of damage to your enemies. This build works by casting Bastille's ability and then switching quickly to the Vortex and then summoning Photon Strike on the enemies. It will produce devastating damage killing most of the enemies almost instantly.
To create this Vauban Prime Build, you will need medium-range combined with moderate efficiency. To add strength, you can choose the Blind Rage strength mod, which is decent enough in dealing with a lot of damage. Suppose you already have a Trinity in your group. In that case, you can use Intensify to increase damage output further or the Constitution for the increased duration.
Vauban Prime Mines Build
This is quite an innovative and unorthodox build among all. With the newer mines that Vauban has got, this build becomes suitable even for the higher levels. The mechanism that goes behind this build is getting as much duration and ability strength as you can.
With over a minute of duration and a decent area of effect, your mines will deal significant damage even at the higher levels. Among all the mines, this build is best suited for Flechette Orb.
You will realize that the Flechette Orb is the most effective one for this build, but it does not go along any mod except the strength mod. You can play with a smaller damage range but enormous strength by using its mod to overcome this.
Vauban Prime Crowd Control Build
This build is a veteran one and is centered around the Bastile ability. The Crowd Control Build is meant to sweep out a more extensive area with Crowd Control, i.e., disabling your enemies so that they are easy to eliminate.
By increasing the Bastile ability range, you can simultaneously pick on a massive number of enemies and kill them with the photon strike. Every time you are going to need Crowd Control, then you can resort to this build.
To create this Vauban Prime Build, you will need duration and a more extensive range to pick up more and more enemies for crowd control. In combination with duration and range, you can select an ability strength mod to instantly kill the enemies. No doubt you will require enormous energy as well, so you can opt either for the Umbral Intensify or the Prime Continuity.
Conclusion
In this article, we discussed our favorite Vauban Prime Builds. However, creating a build should not be limited to the suggestions of guides.
You can try out the combinations of different abilities and mods on your own to see what works the best for you. You can use your creativity and imagination to create a custom build that will suit your gameplay.